ARCHIDEX 2019 was held on 3 July to 6 July Kuala Lumpur Convention Centre.
It is South East Asia's most successful annual industry trade event for the architecture, interior design and building fraternity.
We are honoured to have been invited to the exhibition to set up a VR booth and showcase our BIMatrix VR software and Mobile VR Workstation. Throughout the event, we were constantly thrilled by the response that we received during the exhibition.
We had the opportunity to meet with delegates from developers to architectural and engineering consultants; contractors, interior designers, students as well as professionals from the creative industry. We are pleased to hear their valuable feedback on our very own BIMatrix software besides to gain insights on how this software could potentially assist them in solving their pain points they have faced in their business operations.
Delegates were eager to try out the VR experience and giving us feedback on what they thought, and we will always be excited to show our capabilities and offerings. Which further brings us to believe that the efforts which we have been propagating since the beginning, that VR technologies as an assisting tool, has a valuable use case in the built industry.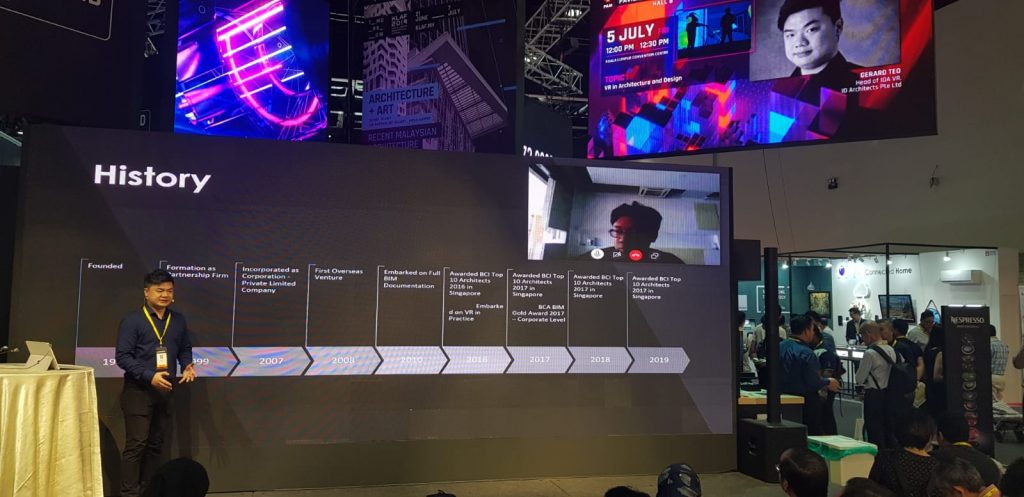 Gerard Teo, our director was also invited as one of the speakers for the exhibition.
Here is a glimpse of him sharing about VR in Architecture and Design and showing off non-local Communication feature of BIMatrix. Where we mixed the functions of a networked game into BIMatrix foundation to enable operationally useful functionalities.
It was also the first time that we showcased our Mobile Virtual Reality Workstation which enables 4 virtual users and is extremely portable. We would like to take this opportunity to once again thank ARCHIDEX for gracing us and having provided us with everything we needed and as requested. We are looking forward for the next ARCHIDEX event to engage with more ideas and inspiration from everyone in the built industry.
IDA Technology's booth at ARCHIDEX 2019